For a list of all map-related Minecraft topics, see Map (Disambiguation).
A Locator map is an item which can be used as a visual aid when exploring the Overworld or The End. It allows a player to capture surface features of areas they visit, plotting them on a hand-held map. It also allows players to locate other players, as the name states.
Mechanics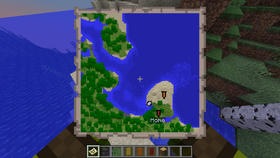 The main distinction of a locator map is that it can track players, while a normal map cannot. A map's main function is to see the surface of any texture, unless you are in the Nether.
Crafting
Supplies needed
-1 compass
-8 paper
Place the compass in the middle slot and then place the paper surrounding it.
Trivia
You can expand your map up to 4 times.
Maps work in the Nether, although the map must be crafted in the Nether. Maps crafted in the Nether do not work in the Overworld, and vice versa. Maps made in the Nether will not display any terrain because the roof of the world is covered in bedrock (making them quite useless).
You can hold a map in your offhand.