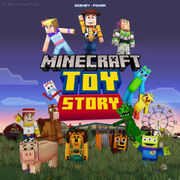 The Toy Story Mash-Up Pack is texture and content package that is available for Legacy Console Editions and the Bedrock Edition. This DLC includes Skins, options, textures, music and a pre-made world based on the Toy Story franchise. This was the last mash-up pack 4J Studios made in the Legacy Console Edition before working on Marketplace Packs in Bedrock Edition.
Skins
Woody
Buzz Lightyear
Jessie
Bo Peep
Bo Peep (Toy Story 4)
Rex
Sarge
Little Green Man
Emperor Zurg
Stinky Pete
Wheezy
Rocky Gibraltar
Mr Pricklepants
Dolly
Big Baby
Chuckles The Clown
Twitch
Bookworm
Janie
Combat Carl
Mrs Nesbitt
Ducky (Toy Story)
Forky
Bunny
Ducky (Toy Story 4)
Gabby Gabby
Benson
Fredric
Duke Caboom
Locations
Texture Replacements
Wolves replaced by Slinky
Pigs replaced by Hamm
Spiders replaced by Babyface
Music
Location of various items in the map 
13- On top of the Merry-Go-Round in the Carnival
cat- Open the prize slot of the Claw Machine in Pizza Planet by fishing a villager (Alien) into a small area with pressure plates
blocks- Vending Machine in Sunnyside Daycare
chirp- Go to Al's Apartment and pull the lever and point the arrow toward the bottom right on the music player.
far- Play the Bow & Arrow Minigame at the Carnival from Toy Story 4
mall- Input code on computer in Bonnie's House (2nd button, 4th button)
mellohi- Pull the lever on the console in Al's Toy Barn & complete the short path to find the disc.
stal- Closet secret passage in Sid's Room from Toy Story 1, Must find 3 items first (Iron Bars, Zombie Head, Spider Eye)
strad- Drawer in Andy's Room (Toy Story 1)
ward- Next to Wheezy in Andy's Room (Toy Story 2/3)
11- Located in the dump area in the Tri-County Landfill in Toy Story 3.
wait- Pinball Machine in antique store from Toy Story 4
There are 2 types of mineshafts that generate repeatedly in multiple locations on the map.